Applications:

- Over Temperature sensing
- Temperature compensation
Features:

- Five Sided terminations
- Solid state ceramic composition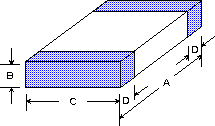 0805 & 1206 SPECIFICATION TABLE
Part Number

W @ 25°C +/- 30%

Switch Temp. +/- 5 °C

Reference Dimensions (inches)

A

B

C

D

WSM0805DC501N

500

100

0.080" (2.03mm)

0.050" (1.27mm)

0.050" (1.27mm)

0.020" (0.51mm)

WSM0805DC102N

1000

100

0.080" (2.03mm)

0.050" (1.27mm)

0.050" (1.27mm)

0.020" (0.51mm)

WSM0805DC202N

2000

100

0.080" (2.03mm)

0.050" (1.27mm)

0.050" (1.27mm)

0.020" (0.51mm)

WSM1206DC501N

500

100

0.120" (3.05mm)

0.060" (1.52mm)

0.060" (1.52mm)

0.020" (0.51mm)

WSM1206DC102N

1000

100

0.120" (3.05mm)

0.060" (1.52mm)

0.060" (1.52mm)

0.020" (0.51mm)

WSM1206DC202N

2000

100

0.120" (3.05mm)

0.060" (1.52mm)

0.060" (1.52mm)

0.020" (0.51mm)
SPECIAL PARTS
Part Number

W @ 25°C +/- 30%

Switch Temp. +/- 5 °C

Reference Dimensions (inches)

A

B

C

D

WSM8055DA201N

200

120

0.100

0.055

0.080

0.02

WSM8040DA301N

300

120

0.100

0.040

0.080

0.02

WSM6540DA401N

400

120

0.100

0.040

0.065

0.02

WSM6540DA501N

500

120

0.110

0.040

0.065

0.02

WSM6535DA601N

600

120

0.110

0.035

0.065

0.02

WSM6535DA801N

800

120

0.110

0.035

0.065

0.02

WSM6035DA102N

1000

120

0.110

0.035

0.060

0.02

WSM6035DA152N

1500

120

0.110

0.035

0.060

0.02

WSM6035DA202N

2000

120

0.110

0.035

0.060

0.02

WSM6035DA302N

3000

120

0.110

0.035

0.060

0.02

WSM6035DA402N

4000

120

0.110

0.035

0.060

0.02

WSM6035DA502N

5000

120

0.110

0.035

0.060

0.02
Options:

- Tape and Reeling
- Special Resistance Values

Terminology:

Base Resistance - The resistance value of a thermistor at a specified temperature with negligible electrical power to avoid self heating. Usually base resistance will be defined at 25 C.
Switch Temperature - The temperature when the resistance of the PTC thermistor reaches two (2) times the base resistance, sometimes referred to as curie point or transition.
PTC Thermistors can be formulated to have switching temperatures as low as zero (0) C to well over 200 C. Figure 2 illustrates typical 60, 80, 100, and 120 C switching temperature curves.